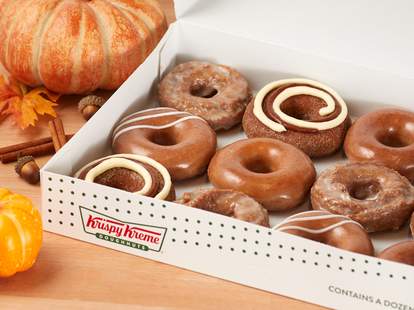 Now that it's officially September, the trickle of premature pumpkin spice-flavored foods and drinks that started in August is about to turn into a bright orange tidal wave. Pumpkin spice lattes, pumpkin spice ice creams, pumpkin beers — they're all competing to lure you into the fall spirit. And now, Krispy Kreme is adding a whopping four different pumpkin spice donuts to the cornucopia of options.
In a show of reason and restraint, Krispy Kreme formally debut its 2020 pumpkin spice donut lineup at its locations across the country on Tuesday, nearly two weeks after Dunkin' dropped its pumpkin menu and exactly a week after Starbucks started serving its Pumpkin Spice Lattes for the season. But the chain's relatively reasonable timing is where its restraint ends. Instead of offering one or two simple pumpkin spice donuts, the sugary dough purveyor is doing the most and offering several takes on the sweet and spicy seasonal flavor, including a new pumpkin spice- and cinnamon roll-flavored donut.
Here's the full lineup:
Pumpkin Spice Original Glazed: Think Krispy Kreme's classic donut with a twist of pumpkin spice flavoring.
Pumpkin Spice Original Filled Cheesecake: The same as above, but with cheesecake filling piped inside and cheesecake icing on top.
Pumpkin Spice Cake: A pumpkin spice-flavored cake donut coated with the chain's signature glaze.
Pumpkin Spice Cinnamon Roll: This is basically a Pumpkin Spice Original Glazed sans glaze plus a coating of the chain's pumpkin spice sugar blend, cream cheese icing, and cinnamon schmear.
COURTESY OF KRISPY KREME
Yeah, you can follow Dave's lead and space out the spicy donuts across the month, but why show such restraint? Krispy Kreme certainly isn't holding back with its pumpkin spice lineup up this year, so neither should you. Order three of each to make a full dozen and don't look back.
Source: Krispy Kreme Is Unleashing 4 Different Pumpkin Spice Donuts for Fall